I love Friday! Probably the biggest reason is just knowing I don't have to wake up to an alarm the next morning. Not that this means I get to sleep in of course...my kids, Rylie and Alyssa especially, dislike very much to get up for school during the week. I start waking them up around 7:20-ish and get to listen to them whine about how they're SOOOO tired for the next 10-15 mins! Amazingly, they have no problem getting up on their own before 7 on Saturday. Then, because I have "The Mom" title, I'm the one they come to wondering what's for breakfast. Still, I know I can crawl back into bed for a few more Z's, since no one has to be to school or work.
A lot of times though, I'll find that I can't go back to sleep because my brain has woken up and I'll lie there going over something in my head, or just knowing I have a car for the day, I start thinking of all the places I can go, so I find myself just getting up anyway.
Last Saturday I got an early start and headed over to my moms for a day of scrapbooking. It's always more exciting to scrapbook w/someone than by myself. I realize when I scrapbook at home, that my husband and kids are there, but it's not quite the same. On the way to my mom's, I stopped by Scrapbooks, Etc. to pick up a few things. I was so excited to find out that they were having a sale...10% off your entire purchase. Of course that meant I had to spend more than I originally intended. I'm sure you all understand though. :) Also, they had a "make & take" project, so I couldn't pass that up. It was FREE afterall. It was a super cute Christmas card, which after showing it to my mom, I think we've decided to make our Christmas cards this year. I'm kinda excited about that. I considered it last year, but seriously lacked motivation. So after a few hours there, here's what I got accomplished...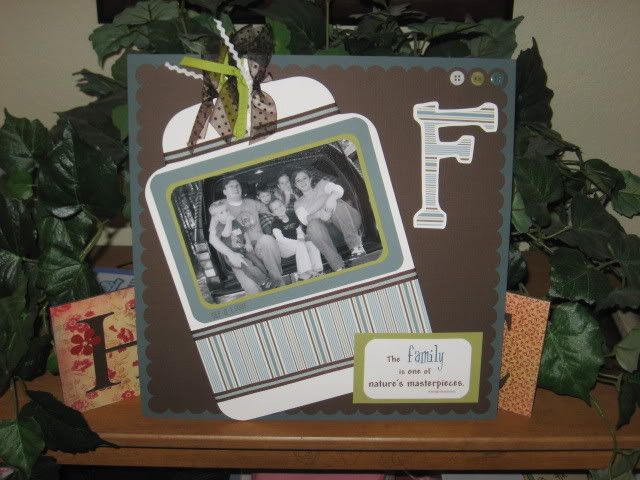 That afternoon I came home and still felt like "scrappin" so I pulled a "sort of" kit out and came up w/this...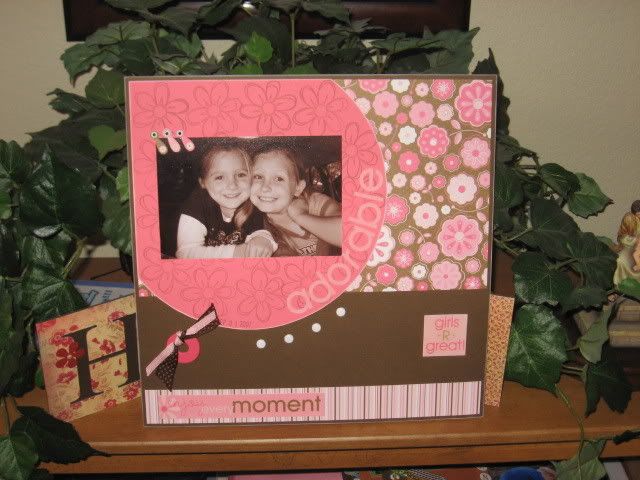 Then, after a couple more days, I put this together...
So I'm pretty proud of my accomplishments over this past week.
Just wish our maid hadn't run off w/our cook...