My boys started
"preschool" this morning. It feels weird to call it that though. It's not at a school, and it's far from expensive.
A lady from our ward called me up one day asking if I'd be interested in putting Trenton in this preschool that they were wanting to do. I was very hesitant at first because I would still have Camden at home and with him being older, it seemed....weird. Soo...at first I said "No thank you". Then after talking to some of the girls in the ward who were putting their child in, I decided I'd go ahead and put Trenton in, and ask if they'd mind if I put Camden in as well. It was only going to cost $63 each, for the entire year. The way it's going to work though is, every 7 or so weeks, I'll be the "teacher". So it rotates from house to house. But that seems easy enough. I think I will be able to handle that. And since they aren't expecting me to teach twice in the cycle because I have 2 boys in, that'll be even nicer! The best part is, I'll have some "ME" time! Two hours a day, 3 days a week. I have no clue what I will do with myself, but that's ok! I like to think that I will get all sorts of scrapbooking done, but it literally takes me 5-6 hours to complete 1 page!
Speaking of scrapbooking...I've been meaning to post some of my most recent "completed" projects, so here they are...in no particular order...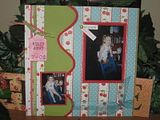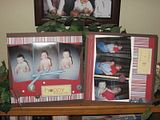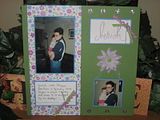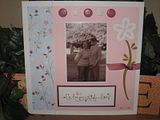 I'm especially proud of my 2 page layout. It's my first official 2 pager that has pictures that sorta go together. They are of Camden from when he was about 10 months. I love the ones of him with Josiah.
So Rylie's thing lately is that she wants to be an actress. I could totally see her being a great one, too. Ever since she was smallish, I'd find her, alone, just sort of acting out whatever was going on in her little head. She still does it. I mean, I know that it's partly just the thing that kids do. But she is good at it! OR she just comes up with this random...funny stuff. The sad thing is, we'll have a funny moment, where we all laugh and whatever, but she doesn't quite get the "you had to be there" concept, so she wants to tell everyone about those "funny to us" times. She's great! We love her and are definitely blessed to have her in our family. (Along w/the other 3 as well, of course...)
Anyone have any remedies for getting a 6 yr old out the door for school in the morning.... HAPPY!? We went through this last year, where Alyssa would get all emotional in the mornings and really dread going to school. I finally broke down and let her stuff her "purple blanky" into her backpack, as long as she'd walk out the door w/a smile on her face. I was sure this year was going to be better because she would be older and I knew her teacher (same one Rylie had for 1st & 2nd grade), and her cousins would be going to the same school...but no. For the 1st week or so it was fine. I think she was still excited about getting back to school. But after that and ever since, it's like a daily thing. I threaten to take away computer privledges and that sort of thing, but it doesn't work that well. I feel bad sending her out the door like that, but it also is very frustrating and I get very irritated. From what I can understand, there's nothing going on at school that would make a person not want to go back, other than she is
very
shy and doesn't really have any friends that she plays with. This of course breaks my heart. She's such a pretty little girl and her mopey face is just simply not as cute as her happy smiling face! There are girls who she has picked out that she would
like
to play with, but because they haven't openly asked her to come play with them, she won't, because she's too shy to ask them herself. (This, she of course gets from me.) Arrrrgh! So what do I do? Any suggestions? I've considered sending a note to her teacher explaining the situation, and asking if she would mind talking to some of the girls and seeing if they could help her feel included. But that seems so....desperate, you know? Is that what it takes? I do remember when I was in 1st grade, there was a day that sticks out in my mind that the bell rang for recess and I didn't get up to go out and play. My teacher then came over and asked me why, and I remember saying that I didn't have anyone to play with. She then took it upon herself to ask some of the girls if they could "be my friend". I honestly don't remember if those were the girls that I then played with the next year and the next and the next, but I remember that I did have a group of girls that I played with, and I don't actually remember before that incident not having anyone to play with, but maybe that's the way it was. It's different now, seeing it from the "parent" perspective... I survived it then so I know she will...but I can I survive it as the mother?